Watery eyes, wild hair – this was my first morning in Florida last week:
It was a great trip, replete with way too much food, a little too much bourbon (<– uff da), and a lot of great conversations with an amazing crew of co-workers.  One of the best things about coming back from a trip like this (for me) is that I've come home with a wealth of ideas.  (And now I have a week coming up between Christmas and the New Year, so I can likely forget some of these plans – but truly, I'm looking forward to some time to write down goals and figure out an action plan.)
Incidentally, I'm hoping to take the next week to also sketch out some plans for my creative life too.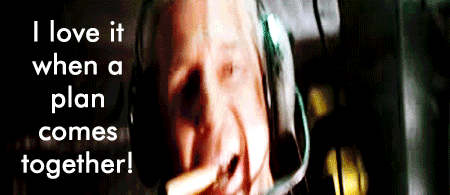 Despite my travels, there were a couple items that were worth a read this week:
The ultimate break-up letter / wedding cancellation notice from Baroness Elsa Schraeder.
So thrilled to see that one of my friends and favorite indie bookstore managers got a holiday "bonus" from author James Patterson.  (And also thrilled to see that Once Upon A Crime's GoFundMe is almost at its goal!)
I love coffee.  I love Ina Garten.  And I ADORE her husband, who happens to apparently make the "best" cup of coffee.
***
Reading: While on the plane, finished Caitlin Jans's "The Six Month Novel Writing Plan." About halfway into Gillian Flynn's "Sharp Objects."  Will finish Ava Black's "The Bug Jar" over holiday break and am reading Violet Ramis Stiel's "Ghostbuster's Daughter: Life With My Dad, Harold Ramis."  I'm a huge Harold Ramis fan and this is a beautifully written insider's look at his life, as well as the personal bond between father and daughter.  I'm not usually a memoir person, but I'm glad to be reading Ms. Stiel's book.
Watched: "Mamma Mia 2" was on the flight from ATL to MSP. Two words: Andy Garcia.  OK, wait – one more word: Cher.  It was a ridiculously fun watch.
Writing Life:  Life in Florida didn't mean a total break from all things creative.  I tried to finish a short story on my flight to Florida and hope to have it done in January.
Happy Monday, dear friends!
– Shelley
***
Monday Mayhem is what happens when I neglect to write a Friday Fare. Or it can be any kind of article that happens to be published on a Monday.  I hope that it provides a great start to your week!