Fall has settled in my corner of the Midwest with a (very rainy) vengeance.  Seriously, the end of September had STICKY HOT weather and as soon as the calendar turned to October, it got cold and it started to rain.  But I love sweater weather, so this kind of weather sings to my soul.
First and foremost – huge congrats to my dear friend and mentor Jerry Johnson.  His latest collection of essays and work is gathered into A View from the North Country and is available for purchase.  I cannot wait to read it and feel blessed that I will get a copy hand-delivered to me (and that said delivery will be accompanied by lunch and beer with the author.)
What was the best children's book from the year that you were born?
This was a fascinating deep dive into a murder investigation in Texas from the 1980s.  It's a long read, but a good one.
Sheryl Crow is one of the big voices from my childhood and it was cool to see an article about her and to hear that she has a new album out.
The Washington Post ran an article a few weeks back about a small town in western Minnesota called Worthington.  One of the main characters in the piece was a bus driver named Don Brink and what he had to say about the immigrant children on his bus route was heartbreaking and infuriating.  One woman in the Twin Cities has decided to combat hate with action and has set up a GoFundMe to help unaccompanied children in Worthington.  In a world where there's a lot of hate, it's inspiring to see someone combat ignorance with love.
***
Watching: I re-started watching Vikings this week. And while I was about to write, I'm not entirely sure why, I do know why … there's a Skarsgard in the series and I do love those Swedes.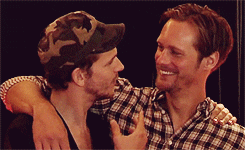 Reading:  Still working through King by David S. Faldet.  I'm also reading Gretchen Rubin's Better Than Before. Aaannnndd Rob Hart's smash The Warehouse showed up in my library holds.  So … yeah.  There are a lot of things I'm trying to get through right now.
Writing Life:  Steady as she goes …
One thing that's happening right now that I'm involved with and super psyched to be part of is that submissions for MWA-Midwest's Hugh Holton Award is open now through October 15th.  I won the Hugh Holton in 2015 and as part of my "pay it back" as a MWA-Midwest board member is helping coordinate this program.  If you're an unpublished mystery writer, click on the link and get your submission in!
I don't know if you all are pumpkin spice kind of people, but drink whatever hot beverage makes your soul happy and remember to be kind to the people that you meet.  Happy October, friends!
– Shelley
***
What is Friday Fare? As a recap, on Fridays I post link love to the various bits of arcane shiz I discover on the Interwebs.  I liken it to a glimpse into my mind, but without the 80s song lyrics or mental cobwebs.