I live in Minnesota and I'm grateful for the bravery of Darnella Frazier, the young woman who filmed George Floyd's murder. We still have a lot of work to do, but Derek Chauvin's conviction is a step in the right direction.
Gillian Welch is one of my favorite musicians. This article ends with a beautiful anecdote on how John Steinbeck's son sent her a collection of Steinbeck's books, because her records felt like something Steinbeck would have written. What an incredible compliment to her artistry.
I finished reading Cal Newport's book A World Without Email and he cited an essay by my beloved Anne Lamott about how to make time for writing. As someone who's largely been off of Facebook since Halloween and still struggles with the allure of Twitter and Instagram, I gotta say … Lamott's got a point. (And I've never had a problem ignoring housework. Just ask my parents or my husband.)
***
Reading: Story Genius by Lisa Cron (still) and Era of Ignition by Amber Tamblyn. I'm enjoying Tamblyn's book/memoir and it's interesting … I think many of my contemporaries (and people younger than I am) associate Tamblyn for her roles in the "Sisterhood of the Traveling Pants" and "Joan of Arcadia". Being the eccentric that I am, I associate her as Russ Tamblyn's daughter. And I love Russ Tamblyn: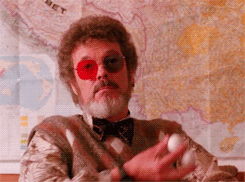 Finished: I Have Something to Tell You by Chasten Buttigieg; A World Without Email by Cal Newport; and Too Much and Never Enough by Mary L. Trump.
Writing: I don't talk a lot about my writing process, because I don't know that I really have one. Am I a plotter or a pantser? Do I light candles and need to write in absolute silence. (BTW – there's no such thing as absolute silence in my house right now and when there is, it's absolutely weird.) The way that story works in my mind is a matter of "what if?" and then my squirrel brain goes from there. I tell myself stories when I should probably be doing productive things and eventually, those little vignettes start to hang together and I start seeing the characters in my mind and drawing the arrows, fleshing out their backstories, etc.  I've been carrying a notebook around lately and sketching little ideas in the pages. And now here's the scary part … I know how the story starts and how it ends. I probably have enough in between to start writing, but … but … but …
This is the scary "jumping off the cliff" part of writing. Let's hope that I fly and not: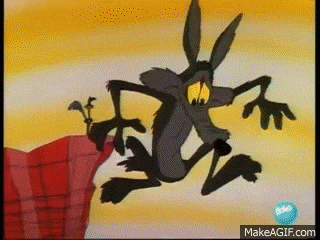 Hiking: Friends persuaded me to go on a five-mile hike. It was glorious AND painful.
Stay safe and well, friends!
– Shelley
***
What is Friday Fare? As a recap, on Fridays I post link love to the various bits of arcane shiz I discover on the Interwebs.  I liken it to a glimpse into my mind, but without the 80s song lyrics or mental cobwebs.