So … it's Friday the 13th.  I'm getting a haircut, meeting a friend for lunch, and am hurtling towards a couple project deadlines.  Should I worry?  Nope.  No worries.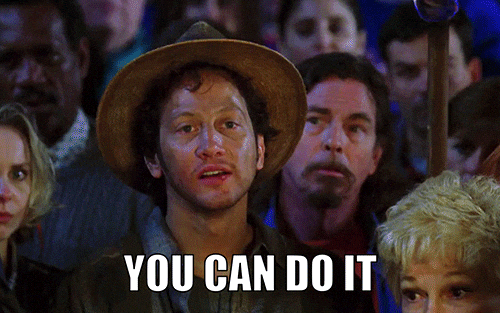 Yes, I'm well aware this is the second week that I've posted a blueberry recipe, but my eldest child decided that he no longer likes blueberries and I can only eat blueberries in yogurt for so many times before I think I'm going to hurl.  (Was that a little too much information?)  Anyway … this recipe is legit and the kind that you can make on a Sunday and eat through the week.  And if someone judges you for eating it cold, straight out of the fridge, well … you don't need that kind of negativity. (PS – The topping is kind of fussy, but absolutely worth it.  PS 2 – The woman who created this recipe is Ina Garten's social media guru.  Gah!  What a cool job that would be!)
I have two new(ish) laptops in my life, one for life and one for work.  In this amazing Windows 10 world, the Internet keeps pushing articles at me when I log onto my browser.  Mozilla Firefox is particularly insidious about parking articles about productivity in my path, because if there's an article that tells me I can be more creative by doing x, y, or standing on my head, chances are good I'm going to click on it.  Here are two I read this week.  And I enjoyed them.  (Something for consideration … spend less time on the Internet?  Nah.)
Talk to a female mystery writer and she'll probably tell you that she read the Nancy Drew books when she was a kid.  There's a reason why Carolyn Keene is beloved, but imagine my delight to find out that the author that started these iconic books was an Iowan named Mildred.  The Smithsonian Mag did a great piece on Ms. Benson.
***
Listening: I probably shouldn't watch this video, because it reminds me that David Bowie left us far too early.  But man – what a live wire.  Get towards the end of the video where he's encouraging the crowd to sing along.  That glint.

Reading: My copy of Michael Kortya's book "How It Happened" came in at the library.  Stephen King recommends it.  That's good enough for me.
Writing Life: This week's "Accountability Monday" had me two chapters behind.  And then my youngest child got sick.  Because … that's what my kids do in summer.  But snuggles from my four-year-old make up for whatever word count I've missed, because he's four going on 14 and man … I swear he was just born yesterday, so I'm OK with overheated afternoon naps that are most certainly passing his germs onto me. 

– Shelley
***
What is Friday Fare? As a recap, on Fridays I post link love to the various bits of arcane shiz I discover on the Interwebs.  I liken it to a glimpse into my mind, but without the 80s song lyrics or mental cobwebs.